Dialog exhibition painting, 21 June, 2021
Ballet is another art form where the artist finds her artistic release.
On the 21st of June, in the October Place two performances was held: «Snow White» starring charming Anna Stoyanova and «Swan Lake» in attendance with consummate Ekaterina Kukhar and Alexander Stoyanov.
Ballet choreography practices were one of the sources of inspiration for the artist when she painted her collection of pictures named «Dialog», some of these painting were presented that day on the 21th of June 2021 in the October Palace.
That is a perfect opportunity to enjoy ballet and painting art at the same time and place!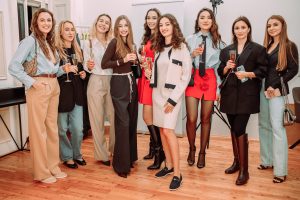 October 14th, 2023, the official launch of Up&Coming, an occasion that coincided with the grand opening of the incredible event venue, Space 11, and the
Read more...